Hi Nina, thanks for sitting down with me to chat about Pilates and Polestar. Let's start from the beginning: why and where did you start practising Pilates?
Nina: I moved to Marbella about eight years ago and, to be honest, at that point I had never even heard of Pilates. I noticed that around where I was living, there were quite a few studios with Pilates equipment. So, I did some research and found a studio based at a tennis club, had a trial and absolutely loved it. I think the reason I enjoyed it was because it had a lot of similarities to gymnastics conditioning. I did gymnastics up until the age of about fourteen or fifteen and really enjoyed experiencing that type of movement again. I was in a group with two other girls and twice a week I would do a mixture of mat and reformer, and occasionally the chair. It would always be the same group of girls so we progressed at the same rate and that was a nice feeling.
When I moved back to England I had a scout around to find a studio that had a similar style and standard of teaching, which wasn't easy! At one London Pilates studio I took a class with Alex Coleman (one of Moss Pilates' Polestar-trained teachers) and she encouraged me to come to Moss Pilates. From then on I started training with Polestar teachers and never looked back.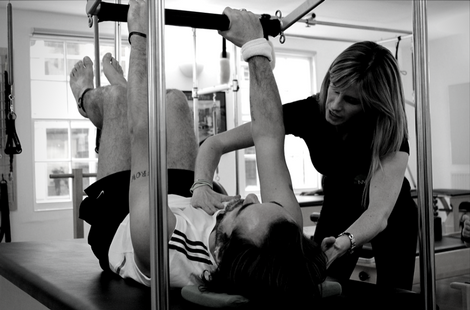 How did you go from being a Pilates enthusiast to wanting to teach it?  
Nina: I don't have a background in the sports industry. I worked for a currency broker for eleven years before I started the Polestar course. But I knew that I wanted to teach Pilates because of the benefits I experienced from regular sessions. For example, mum's done Pilates for years and I see how good its been for her. That was the main reason I wanted to become a Polestar teacher; the training enables you to help people and get bodies back on track with functional and efficient movement. Plus I really want to work with people rather than sitting at a desk all day.
I love that with Polestar training I will keep learning throughout my life. I know that the process of becoming a Polestar teacher doesn't stop with the exam and I am excited to see where my journey takes me. Many of the Polestar teachers working at Moss have added to their skill-set with training in complementary therapies, like sports massage, which enhances their Pilates teaching. That's something that really interests me.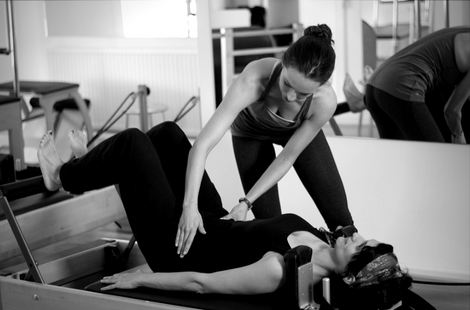 What would you say to people who want a career change and would like to start teaching Pilates?
Nina: Start with the introductory Polestar Gateway course because that will give you a sense of the style of teaching and how technical it can be. But if you're passionate about Pilates, you should go for it. It is a real journey and you become so much more aware of the body. When you start working on yourself some of the exercises may be difficult, but that is a good thing because clients will often come up against the same challenges when trying to perform new movements. By working on your own body as a trainee teacher, you'll find that the course starts to really benefit you as an individual, as well as enabling you to teach. It can help with your other sporting interests, whether you're a runner, cyclist, or climber, or even just help you maintain your body into older life. I believe it's a fascinating journey, even from the perspective of learning a new subject and skill.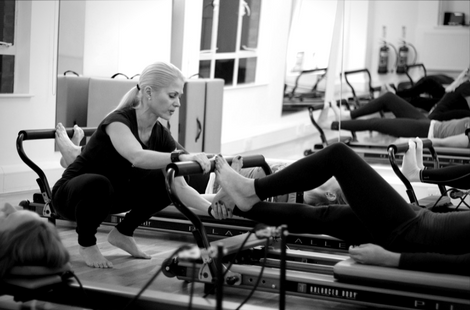 It sounds like the Polestar experience is about much more than just exercise. Is that why you decided to get qualified with Polestar? What would you say to people thinking about doing their Comprehensive training with Polestar?
Nina: Well, although I was coming here as a client for years, I didn't realise Moss was a training centre. When I found out it was the UK home of Polestar Pilates, I knew it was the perfect place to do my training because I love the style of teaching here. 
Before starting the Comprehensive course I took the Gateway course as a taster. This gave me newfound respect for the teachers here at Moss and insight into what I need to complete my training.
The Comprehensive course itself was brilliant. The way the course is broken down into various 'principles' makes a lot of sense to me. I also love how all the students had very different life experiences and backgrounds. Another great thing about this course is that whether you're a physio or an office worker, we all learn everything from scratch and gain deep understanding of how the human body works and moves. We don't just learn the repertoire to go out and repeat it; we are taught to problem-solve and understand the benefits of each exercise.
It sounds like the process of becoming an Polestar teacher extends beyond the formal course setting. Can you give us insight into how the Polestar educators supported you?
Nina: When you finish the course, you spend time with educators and mentors who help you learn the exercises. They all have different teaching styles which is great because it gives you a feel for different teaching styles. This means you can find a style of teaching that resonates with you. Working with different people this way helps to understand that not all teaching cues work for everyone. The learning process helped me realise that I want to be the best teacher that I can be, and I don't need to copy anyone. I want to put my own spin on it.
I feel very lucky that I've found Polestar Pilates and Moss because of the wealth of knowledge that I can tap into as a student. When the course finishes, I have to motivate myself but it helps that through Polestar I find myself surrounded by amazing teachers. In my opinion, they are the best!
What did you find most challenging about the course? What advice would you give someone starting on the road to teaching Pilates?
Nina: Start teaching people as soon as possible! I left it quite late as I was a bit of a chicken and felt a bit embarrassed and self-conscious. Even when you only have a handful of exercises, get your friends in the studio and start teaching to get used to it. Plus working next to other teachers will build your confidence. So book some studio time, and absorb all the goodness that comes from hearing Polestar teachers at work.
Finally, how has training to be a teacher with Polestar influenced your life outside of Pilates and the studio environment?
Nina: I've changed so much since doing the course. I feel much more relaxed and I'm calmer. I am also more body aware and breathe better. Pilates and the Polestar course have given me tools to get the most out of day-to-day life. I've learned how to relate to different types of people and that has made a positive impact on my relationships inside and outside of the studio.
As Studio Manager, I also get to witness the difference Pilates makes the students and clients who come to Moss. From the front desk I see people arrive in various stages of stressed out-ness and yet they always leave with a smile.
Interview by Scarlett Hirst, Moss Pilates