My name is Hali Procter, I graduated from my Pilates Comprehensive training with Polestar in London, March 2017. It was a long journey getting there and sometimes, I thought it would be impossible. I was a working mum, in an industry that couldn't have been further away from the Pilates career that I so longed for. This is the story of how I went from being a TV studio manager, to Pilates business owner with Polestar Pilates UK.
I was juggling a career based in a busy London TV studio and parenting a young son, while managing my long-term muscular and skeletal back issues. I loved my job but since having a child, it didn't feel sustainable and the long hours clashed with being a mum. The days were long and I'd spend hours behind a computer with terrible posture. I couldn't imagine working in the TV industry for much longer. I wanted to do something that I love and could continue into my later years. It made sense to choose a career that could carry me to retirement.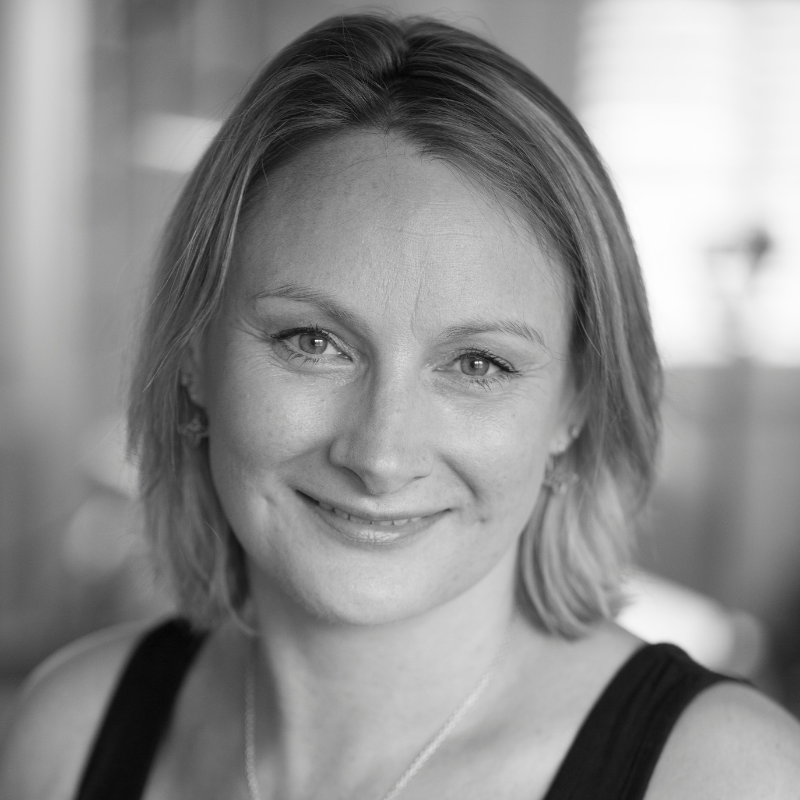 It was an injury due to bad posture that sealed my fate with Pilates. So began my journey, from the TV studio to my own Pilates business.
I'd been practising Pilates for some years to help with my back pain and various injuries. I'd practiced Mat Pilates and Pilates on the apparatus. I love the Pilates apparatus; nothing compares to the assistance and resistance of the springs, and the soft contoured surfaces that support, guide and challenge my body. The Trapeze table and Reformer had stolen my heart.
But was I mad to leap straight into the comprehensive teacher training with nothing but passion to see me through?  Would it be simpler to study the mat repertoire? I decided that if I want this career change, I need to follow my passion and do what makes me happiest – and that was the Comprehensive Pilates course. After much research into which school to train with, I decided on Polestar for its holistic approach and scientific-based movement theories.
Once I'd chosen the school, the rest fell into place. The training was great. I made some lifelong friends and I had access to the best educators. At times however, I felt as though I was taking one step forward and two steps back, due to working and training and looking after a young child at the same time. I would immerse myself in the training when I could, then work would call and I had to put my training on the back burner. It was frustrating to say the least. But it was what I wanted to do with my life so I kept going.
I never felt ready to take the exam. There's always more to learn, but I wanted that certificate, so I made the leap from student to graduate.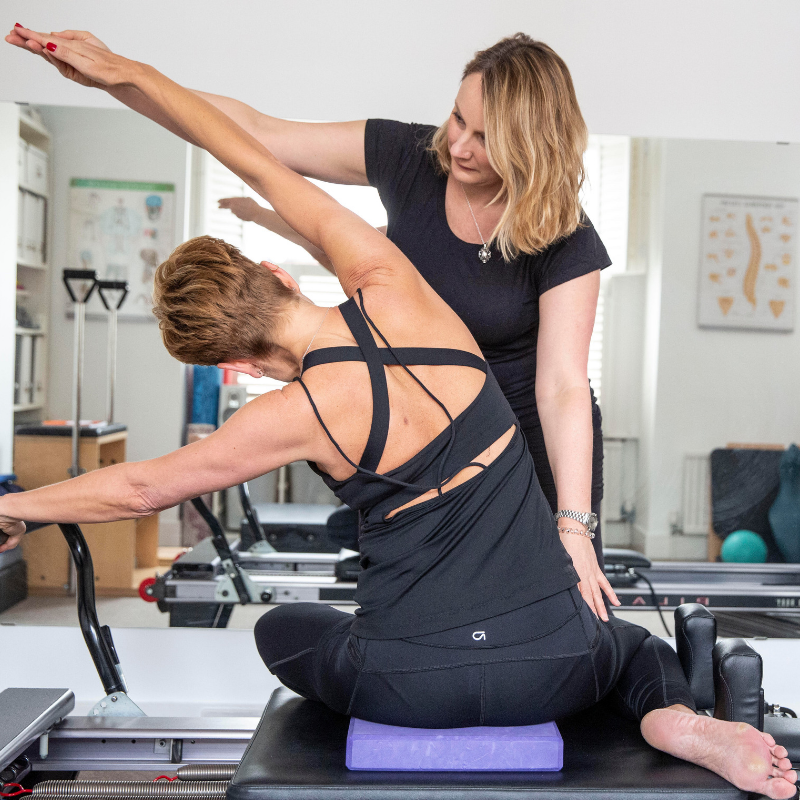 The feeling of elation on receiving the certificate, confirming I was now a bonafide Pilates teacher, is a feeling I will never forget. I framed my certificate and it takes pride of place in my studio reminding that I did it, I made the transition from Pilates student to business owner.
I was really lucky in that I had space at home to create my own Pilates studio, and throughout my training I'd slowly picked up pieces of equipment and props for self-practice. Pilates on Tour was in London so I picked up an ex-demo Balanced Body Combo Chair to compliment the
Allegro Tower and Pilates Arc I already owned. Last summer, I noticed a Ladder Barrel for sale with a studio owner who was down-sizing. I've never driven to North London as quickly as the day I picked that up! Little by little I turned my dream into reality.
Once I graduated, I spent one week painting the room, installing new lighting, and fixing mirrors to walls.  After a few weeks of trips to Ikea for storage solutions and big mirrors, I was set to go.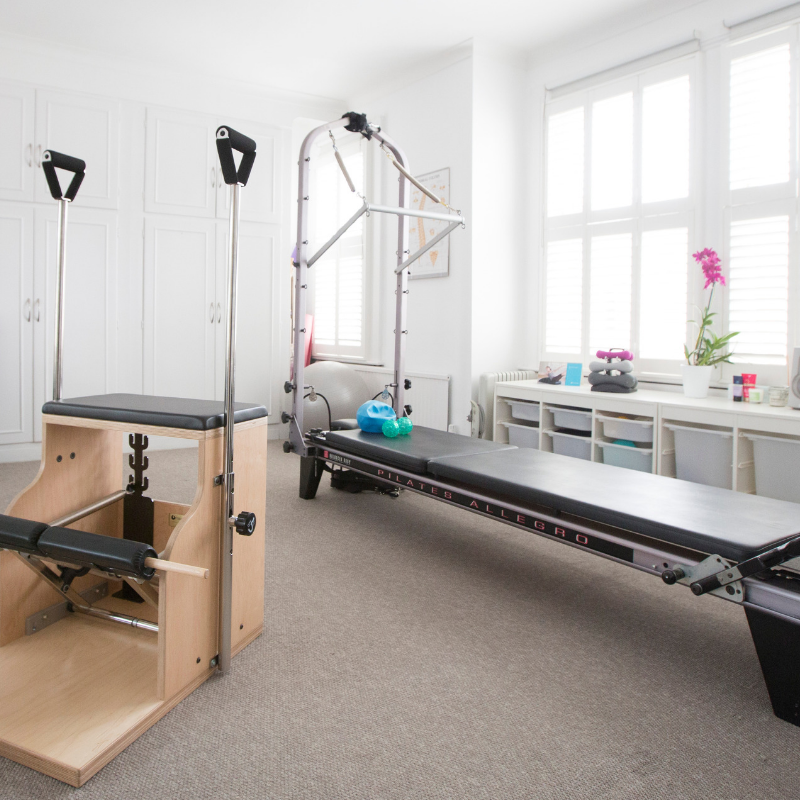 I love my new studio. It's bright and airy; somewhere I want to spend time, to teach and practice.
I hadn't put too much thought into how I was going to make my new career work, which now seems ridiculously naive of me. But with my passion and thirst for Pilates and a little bit of local marketing, I began to get enquiries.
My business is steadily growing, mostly through word of mouth. I've carved a niche for people that want Private Pilates, or 2 to 1 tuition for friends that like to practice together. Initially, I'll get an enquiry from someone with an issue, whether it be hips, knees, shoulders, or simply someone that wants to get stronger and be more mobile. It's massively rewarding to see the change in people from their initial visit to months down the line. I've been really lucky to have so many loyal clients who love Pilates and commit to one session per week. This year I've noticed more men are joining up.
The myth that Pilates is for women is clearly shifting; I now have equal numbers of men and women attending regular weekly sessions.
I'm grateful to all my clients for allowing me to guide them to better, functional movement with growing ease and strength.
My long-term goal is to open a larger studio with more equipment and to run mat classes. That dream feels in reach. My advice to anyone who wants to change career from the job you have now to running your own Pilates business, follow your dreams and don't give up. Anything is possible!
I hope my story inspires you to follow your dream of a rewarding career in Pilates. Love, Hali.
Visit my website or Follow my journey on Social Media: Facebook and Instagram